SmartEP-CAM
A sophisticated, full-featured continuous acquisition module for research.
Continuous Acquisition
Hardware Platforms
Downloads
Continuous Acquisition Module
SmartEP-CAM, is the most flexible platform for the acquisition of EEG and Evoked Responses.
Features include:
Continuous acquisition of up to 8 channels.
Recordings saved to disk as they are acquired
Freeze the screen, zoom, or move down the timeline.
Label important features.
Create an average based on your parameters.
Export high resolution averages for analysis.
Hardware Platforms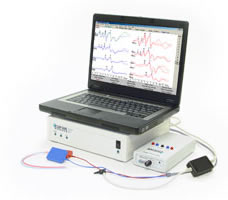 SmartEP-CAM is available exclusively for the Universal Smart Box. Please contact us for additional information.