Video VRA
The new wave in manual visual reinforcement audiometry.
Features
Hardware
Downloads
Video Visual Reinforcement Audiometry
VVRA gives variety to audiometry testing for infants. Video reinforcement provides the capability for unlimited reinforcer variety, allowing you to keep the infant's attention to the head turning task. This variety can also be helpful when testing infants with very particular taste:
Features include:
Right and Left video windows when using a capable computer.
Up to four ready-to-use videos per side.
Quickly switch playlists and sides with simple keyboard shortcuts.
Hardware Platforms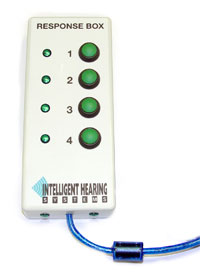 The Video VRA response box is easy to use and easy to install. Connects to any windows based laptop or desktop. When testing, just push one of the numbered buttons on the control box to activate the corresponding video. Video mappings are clearly shown on the control window. All IHS hardware platforms are Windows 10 compatible.
Brochures

Solutions for Visual Reinforcement Audiometry
Download the brochure for additional information about all available VRA solutions including the VVRA product capabilities.

VVRA Demostration
To download this video demonstration, right-click on the icon and select "Save Destination As" or "Save Link As".